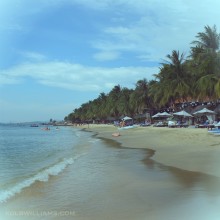 Conventional wisdom for selecting beta readers is to choose people who can give you honest, objective feedback—a set which typically excludes close family and friends. But on a recent trip overseas with my husband, I learned that sometimes the best feedback comes from the person who knows you the best.
Two weeks in and we're crashing a beachside resort pavilion, confident and casual, and although our mud-crusted sandals and smattering of possessions aren't fooling anyone, we order a mango smoothie and a coconut so people think we belong here.
Coconuts. Can you even believe them? They're filled with water! No, no, don't charge it to the room, I've got cash.